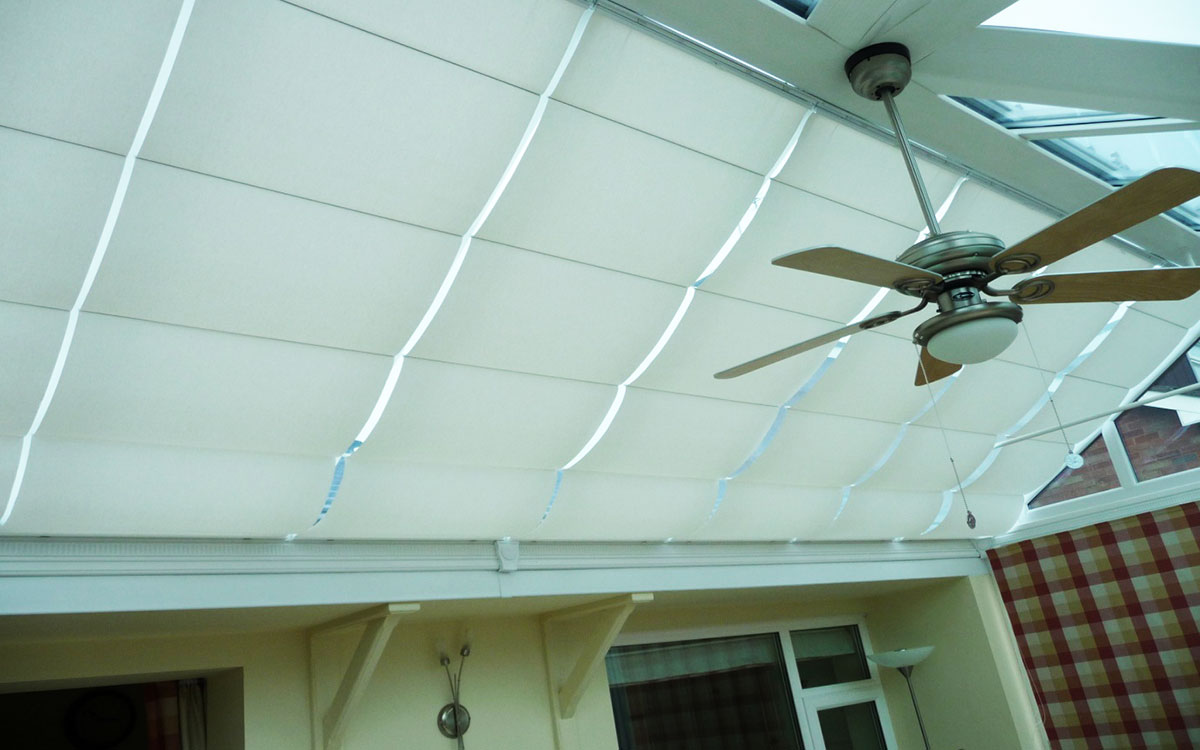 Roman Roof Blinds, Nottingham
Conservatory Type: UPVC conservatory, 4.5m x 4.2m, glass roof
The Problem
Mrs C required shading, mainly on the southern elevation of the conservatory, due to the intense heat build up & brightness, along with concerns that the conservatory furniture would rapidly fade. Whatever blind style she chose, she would see if just tackling this elevation only, would be enough, before deciding whether or not to do the rest of the conservatory roof. However, she made it plain that she did not like pleated roof blinds, which are "too fussy" for her tastes.
She also wanted blinds that would complement her existing fabric, side romans, which she made herself, but was worried that they too, were fading.
The Solution
Pinoleum was briefly discussed, but quickly ruled out as Mrs. C felt that wooden blinds would not suit her UPVC (plastic) conservatory. Roof rollers, although she really liked them, would not be suitable unless she agreed to tie all of the cords "high" on the facia, as they would not look right on the walls. At only 4'10" tall, she commented that was far from practical!
This left 1 option, fabric roof roman blinds, which matched her preferences perfectly. Manufactured with a special solar reflective, light filtering fabric, in a cream colour, they would tie in nicely with her decor. Operation by pole is reasonably practical & requires a steady hand, but this was not considered an issue as the blinds would be left up all of the time anyway.
"I rather like the softness in the folds & contemporary look of the roof romans. They took a little patience in the fitting, as our conservatory is not totally square, but they look smashing."