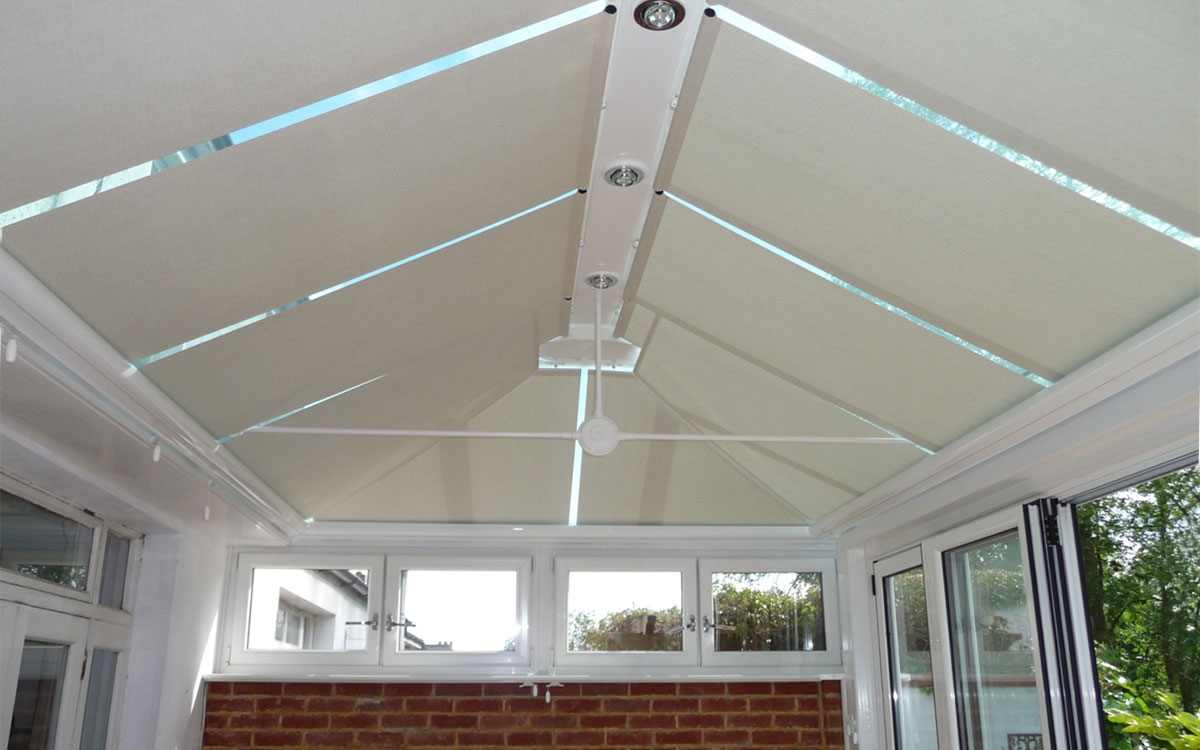 Roof Roller Blinds, Sutton Coldfield, Birmingham
Conservatory Type: White aluminium, high roof, 5.0m x 3.0m, Pilkington glass roof
The Problem
Mr & Mrs M knew that they wanted roof rollers as their tastes are simple & clean lines, to blend away rather than dominate the roof. Initially they thought 1 blind per pane of glass would be preferable, but were also worried about drilling into the box gutter, & whether manual blinds were feasible. They knew electric blinds would cost more than they wanted to pay, having had numerous quotes from companies trying to "sell" them at inflated prices.
The Solution
12 roof rollers (with 6 mitred cassettes) were advised, rather than 18 individual roof blinds, not for price reasons, but aesthetics i.e. less blinds, less gaps, less hardware, less fuss, fewer operations & overall a neater appearance. Although the roof is quite high with brick walls at each end & wide sweeping full height folding doors, convenient & discrete positions were identified for positioning of cleats to wrap cords around. White cleats with white cords & white acorns ensure they blend away & are hardly noticed. Only the 4 blinds above the entrance to the dining room were secured high, but these blinds would always be kept drawn for privacy reasons.
All hardware was secured into the roof beams with specialised brackets rather than drilling into the box gutter. Prestige fitters are highly experienced in the techniques for attaching blinds onto box gutters, having fitted roof blinds for two decades!
"A really splendid installation, professionally finished off with your mitred cassettes, excellent personal service & attention to detail."