Protect your Home, Protect Your Bills
Concern about our environment is certainly a growing international concern. There are many ways to dramatically improve the energy efficiency of your home including loft insulation, water tank insulation, double glazing, cavity wall insulation, draught proofing, energy efficient light bulbs, heating controls and installing the right types of window blinds and curtains.
Probably the best type of window blinds for insulation are cellular shades, also called honeycomb shades, or Duette blinds. They come in single, double and triple cells. The triple cell shades offer the greatest level of insulation both for hot and cold weather.
However they are also the most expensive & look unusual, if not a little "strange"!
Due to the way cellular shades are made, pockets of air are trapped between the cells, and this creates a powerful layer of insulation that can help to moderate the temperature of a room.
Whether it's retaining heat in the winter, shading the sun's rays in the summer, or providing maximum UV blockage and sound absorption, proper window coverings can substantially cut your energy costs and improve comfort levels and overall décor. The result is a surprisingly early return on investment and a refreshing new look you will enjoy for years to come.
However, not everybody likes pleated blinds, whether honeycomb or single pleated, many prefer plain & simple fabric types, or wood/ metal venetians or roman blinds.
Within the conservatory, over 80% of the problem of heat loss is through the glass or polycarbonate roof, as heat rises & is lost largely through the roof. So given budgetary constraints that most families have to follow, especially in these tough economic times, roof blinds may be the best initial investment rather than side blinds which, if needed, can be installed at a later date. Often it is best to "live through" a summer, or winter, & then decide if you really need side blinds.
The "best" style of roof blinds (whether honeycomb, pleated, roller, roman or pinoleum) can be quite difficult to decide upon with so many mixed messages & contradictory statements coming from suppliers, but from an energy efficiency viewpoint, there are 2 products that stand head & shoulders above all others: A) real Aluminium foil backed roof rollers & B) Honeycomb pleated blinds (see Fabric Performance Table).
Our Solar Energi roof roller fabric was designed & manufactured to combat the harshest of Scandinavian winters, where the fabric is used at house windows to keep the heat IN, with savings of near 50% of heat loss through double glazed windows. This unique & world leading edge fabric has 2 layers, 1 polyester (65%), & the rear being aluminium (35%) which is stitched to the face fabric giving it tremendous dimensional stability, so it will not stretch or sag unduly. At the same time gentle light is filtered through the fabric to allow partial vision through when the sun shines, making the fabric really attractive.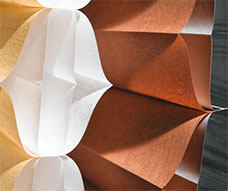 The Hunter Douglas Duette fabric has the benefit of a thermal air pocket within the honeycomb, which gives excellent insulation properties, in addition to a reflective white backing to enhance this property still further. This makes it really effective at both keeping heat out in Summer, as well as retaining heat within the conservatory in winter.
Other considerations come into play of course, such as price, the "look" & whether it suits your property, practical aspects like cleaning & maintenance, colour choices & operation methods.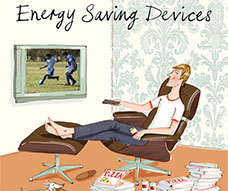 Assuming you have installed the necessary reflective roof blinds, or Pinoleum roof blinds (wood being a good natural insulator), you do not necessarily need top quality thermal side blinds also, as you will have solved at least 80% of the problem anyway.
You can buy specially coated or backed side rollers & pleated, but there is relatively little choice of colours & patterns compared to the thousands of choices available for standard (non backed) side blinds.
They are also much less expensive as they do not need to stand up to such extreme conditions as roof blinds. So save yourself some money & simply choose the colours & designs you like the most & that coordinate with your roof blinds (if you have any)!
Other types of window blinds tend not to have thermal backings, like wood & metal venetians, verticals & panel blinds. The thickness of the material is usually sufficient to combat the sun's rays when it is lower in the sky in winter, or rising & setting during the summer.